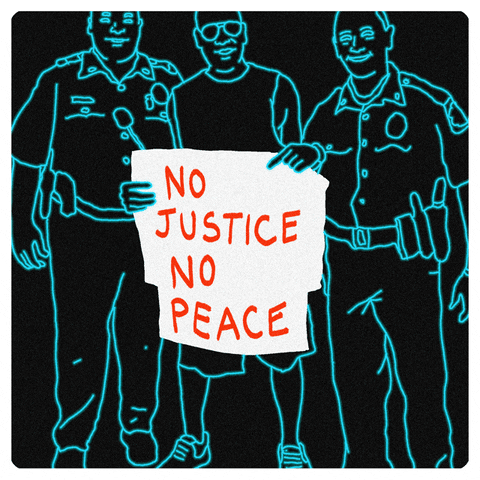 Hi friends,
Welcome to Better Have My Money, my Monday night newsletter that's normally about stocks and investing but today is about police brutality and racism.
And of course money comes into this. The powerful use money as a weapon (sometimes literally, look at the footage of police tanks and police departments with billions in funding, dressed in full riot gear, rolling up on protesters in t-shirts and jeans). The powerless destroy wealth because sometimes it's the only way to get attention (and possessions!).
Police have killed black people again and again, and enough is enough. We all saw George Floyd get killed by a police officer holding his knee against his neck for nearly 8 minutes until he went unresponsive, and even then did not seek to get him medical attention or stop pressing against his neck for over a minute (I actually hope you didn't watch and share it, because black death is not your entertainment).
Protests against police brutality and white supremacy erupted this week across the country, with many incidents of police violence and some reports of looting.
Let's look at some money facts. Police unions donate money to political candidates who then help fund the police budgets and encourage policies to support them (and publicly support them when officers use their powers for police brutality).
On average, a white family in the US in 2016 had a net worth of $171,000, ten times that of a black family, which was just $17,150.
Black families historically experienced redlining in housing, segregating cities and ensuring that real estate and intergenerational wealth became more difficult to accumulate.
Discriminatory lending practices remain, with black businesses less likely to get emergency coronavirus relief loans from the government.
And white supremacy also applies to big business!
There are currently only four black CEOs of Fortune 500 companies. Kenneth Frazier runs pharmaceutical company Merck & Co., Marvin Ellison is the head of retailers Lowe's, Roger Ferguson, Jr. runs insurance company TIAA and Jide Zeitlin is the CEO of Tapestry, a fashion company.
Only two black women have ever been the head of a Fortune 500 company — Ursula Burns who ran Xerox until 2017 and Mary A. Winston, who spent six months as interim CEO of Bed Bath and Beyond last year.
Brands and companies have been posting statements to social media all week — including the NFL! the company that ended Colin Kaepernick's career when he peacefully protested police brutality against black people by taking a knee during the national anthem! — and many of them read hollow, not specifically calling out police, police brutality or racism.
And! A global pandemic, which affects and kills black people in larger numbers, is still continuing.
May I suggest three easy ways you can get involved this week, particularly if you're a well-meaning non-black person wondering what to do.
Join a local protest, follow and listen to local black leaders.

Read to better your current and historical knowledge and learn methods to be anti racist (here's a great list!).

And of course! Give your money. Some suggestions:
The National Bailout Fund — a black-led and black-centered group working to end mass incarceration and pay bail.

Black Lives Matter — the organization leading many of the protests and the fight against police brutality of black people.

Color of Change — an organization aimed at fighting injustice and ending white supremacy.

We Love Lake Street — working to rebuild and reopen small businesses in Lake Street, Minneapolis.

The Sylvia Rivera Law Project — Today is the first day of Pride (remember, Stonewall was a riot against police brutality). The Sylvia Rivera Law Project focuses on legal aid for trans people of color.

Pay The Rent — I know lots of my readers are Aussie, and may I suggest you give money to a local indigenous charity such as Pay the Rent. Aboriginal and Torres Strait Islanders make up 2% of the population and 27% of the prison population. There have been 432 indigenous Australians who died in police custody, don't pretend it's not the same problem there.
Stay safe this week,
Amber Jamieson
Better Have My Money is on Twitter @bhavemymoney, so please tweet nice things (aka the link to our sign up page) and tag us. Got a racist mate? Forward this onto them and tell them to not be a dickhead.
As always, if you've got any questions about stocks, this is a shame free zone. Just reply and ask away.