👸Our true Disney princess 👸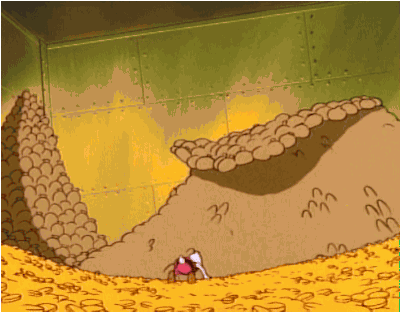 Hi friends,
Welcome to Better Have My Money, my Monday night newsletter about stocks for clueless newbies.
I don't understand Disney people. You know, those grown adults who go on vacay there by choice and post Instagrams of them wearing the ears? Or dress up in matching Disney outfits with their children? People who stay in the hotels?!?
Disney is one of those brands that people are insanely loyal to and I am humiliated on their behalf, because I am a snob.
And that is probably the main reason why I have not purchased Walt Disney Company (DIS) stock (along with not having a lot of money), because its plan for a streaming service, called Disney Plus and costing just $7 a month, is a really clever idea. Particularly because kids currently are obsessed with watching YouTube, and that has shown itself to be problematic time and time again.
But there is one Disney I'm loving.
I first heard of Abigail Disney, the granddaughter of Roy (brother of Walt and a co-founder of the family business), in an excellent interview she did with The Cut a few weeks ago.
In it, she spoke about what it's like when your family becomes insanely, ridiculously rich and how she's struggled with what that wealth did to them and her:
If I were queen of the world, I would pass a law against private jets, because they enable you to get around a certain reality. You don't have to go through an airport terminal, you don't have to interact, you don't have to be patient, you don't have to be uncomfortable. These are the things that remind us we're human.
It was the kind of juicy thing I love to read — full of terrible rich people who worry about if they only are successful because of their wealth.
Abigail is fiery af about money, and I appreciate that she also uses her privileged position to call out CEO and executive pay directly (she's also a member of Patriotic Millionaires, a group of wealthy activists who support huge taxes on the rich).
At a FastCompany event last Thursday, she called Disney CEO Bob Iger's salary "insane." Last year it increased 80% to $65.6 million (!).
As Abigail pointed out:
When he got his bonus last year, I did the math, and I figured out that he could have given personally, out of pocket, a 15% raise to everyone who worked at Disneyland, and still walked away with $10 million. So there's a point at which there's just too much going around the top of the system into this class of people who–I'm sorry this is radical–have too much money. There is such a thing.
She then posted a great Twitter thread all about the problems with justifying wild incomes by claiming that employees also received a bonus.
Confusing term of the week: "share buybacks" — also known as a share repurchase, it's when the company buys its own stock back at market value. One reason it's done is because the company executives are trying to take back a portion of the company' ownership from the public and return it to private investment (which they have more control over).
This lil fact of Abigail's — 85% of stocks are owned by the richest 10% of Americans — is a pretty wild reminder of why I like owning stocks: I want that wealth spread out! (And yes, I want a piece of it for myself). Let's hope others in Abigail's positions — those who've inherited huge wealth because of public companies — also call out the dangers of a system which allows executives and shareholders to get rich while employees struggle.
Abigail noted in The Cut that for a period in her 20s, she nearly gave it away all her money, but chose not to because instead she invested it and therefore increased her giving abilities over decades.
Now I'm glad I didn't give it all away, because my money has grown. Now I've given away so much more than I inherited.
She doesn't reveal exactly how big her inheritance was but she's given away over $70 million dollars since she came into it.
---
If you've got a casual $70 million — or just $70 or even $7, may I suggest giving it this week to the rad Queens of Chess in Kings County, a group of young Brooklyn girls who are desperately raising last-minute funds to go to the upcoming national chess championship in Nashville.
Support queens not princesses!
Have a glorious week,
Amber Jamieson
---
Better Have My Money is on Twitter @bhavemymoney, so please tweet nice things (aka the link to our sign up page) and tag us. Got a mate who is Disney obsessed? Forward this onto them and tell them to subscribe. If you sign up to Acorns, use my sign up code to join and we both get $5.
As always, if you've got any questions about stocks, this is a shame free zone. Just reply and ask away.