Stocks down 9 times
but they get up 10
Better Have My Money: Learning 'bout stocks so we all become rich
Hi friends!
I spent the day repotting my house plants — and buying new ones — because it's spring (apparently) and I was sick of being surrounded by leaves fried by radiators and squishy stems ruined by overwatering when there was no damn sun.
Is this some sort of metaphor about renewal and growth and cutting off dead wood related to stocks?
Not really. Although it's probably as good a time for a new beginning as any if you're wanting to buy your first stocks, since the market keeps having major drops as the trade war chatter continues and my money keeps disappearing.
Speaking of greenery, my weed stocks with Cronos Group are hahahaha oh god so bad.
Down 37%! This article gave a good explanation of noting how the Canadian weed stock market was down 39% since Jan. 9 (basically legalization policy is being debated AND financial analysts have declared many of the stocks overvalued).

On the plus side, I was THRILLED to get this email this week from my friend Jana,
You inspired me... to buy stock. I had money just sitting in my personal ROTH IRA collecting very little interest. Then last night, I took a peek and realized all that money could be used to buy individual stocks.

So ... I did it. Here is my summary:

Things were a bit down thanks to the trade war talk last week so I bought while I thought the prices looked good. We will see what happens.

If it works, I might buy more soon!
OK so obviously I love everything about this (I am wanting to try the Roth IRA thing myself, although I haven't yet figured out having a 401k AND a Roth IRA yet), and Jana has chosen very millennial tech investor (I'm sorry for using those words) stocks, which I love.

And she bought Spotify (SPOT)! Last week I talked about Spotify floating. It seemed like no one knew how to handle this non-IPO style listing when it happened last Tues, including the New York Stock Exchange, which hoisted the Swiss flag out the front in celebration of Spotify's launch. Cept... Spotify is Swedish. My jschool pal Sven Carlsson (surprising news, Sven is also Swedishl) tweeted a pic of it, which ended up everywhere:
Extremely much lol indeed!

Sven, who reports for Di Digital on Spotify, then appeared on Cheddar to talk about Spotify's problems ahead, and said some smart, clever things about the challenges the company will face:
"The labels are going to be very protective of their deals. … well have to see to what extent they're able to give Spotify a better deal on the licensing. All the while Spotify is developing in directions that compete with the labels. That's sort of the dilemma that they are in. And if they show signs of developing tools for marketing or music creation that sort of cut the labels out of the equation, then what is the incentive for the label to keep operating? Spotify is very vulnerable to a label pulling its music, even an artist pulling their music, or catalogue, such as Taylor Swift, was a huge loss for them. Now if one of the three major labels did that, that would put the stock under way more pressure."
(Cheddar is a VERY millennial tech investor publication, I feel like I want a cheesy nickname for these kinds of stocks/publications/etc... "techlennial" "millvestors" "millennial inc", please respond with your best suggestions) (yes I understand my newsletter falls under that umbrella as well) (guys, millennial inc is a pun, did you get it).
Another interesting thing about Spotify is that many people have theirs tied to their Facebook accounts. So if you're choosing to #DeleteFacebook, it may affect your Spotify recommendations (I know someone who has been locked out of the Facebook account because of a verification issue and now Spotify doesn't have their history or know what music they like and it is breaking them). Will Spotify's ups and downs mirror Facebook's (FB)? Who knows, but Mark Zuckerberg is speaking to Congress tomorrow about Cambridge Analytica and data privacy, so keep an eye on how his comments affect Facebook's price.
Here's a check in on my own stocks this week (yes, I do pretend that my weed stocks are not part of my portfolio, even though it's simply that they're in a different app):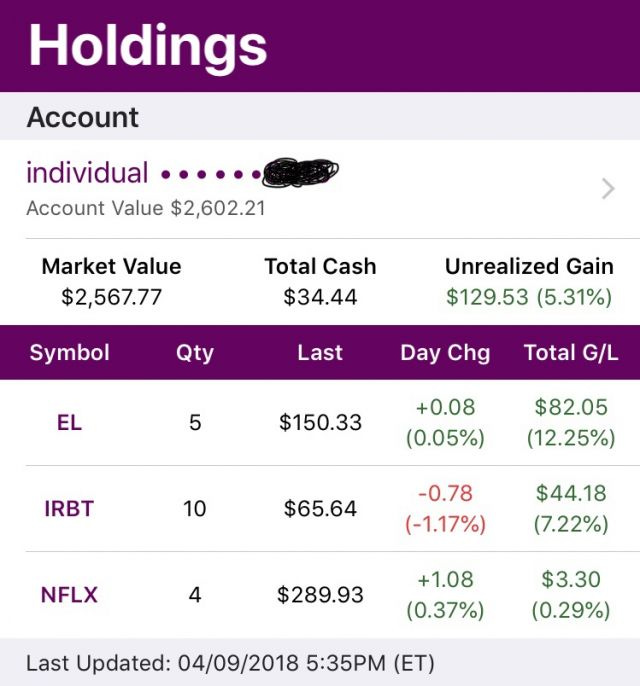 A shout out to Estée Lauder (ET), which has proved to be my safest and most steady stock, bless you skin care.

Last night I did my taxes with TurboTax who are probably overpriced but are so damn easy to use. A reminder to do them this week! If you earn less than $66,000, you can file your taxes free and easily online, thanks to not-for-profit United Way (shout out to @loveaprilkae for her Insta story about it). And yes, United Way are my charity suggestion of the week, donate here.

I'm getting a decent return this year, so I plan on buying some new stocks when it comes through. And I'll probably be boringish and buy some ETF (Exchange Traded Funds) stocks, which basically just mean a little bit of stock in everything and you follow the market. But there's lots of different ETFs — ones that just follow the top 500 companies, or ones that follow emerging markets, or healthcare, or water infrastructure, or robotics.
Even Motley Fool, my favourite stocks site to read, launched their own ETF (FOOL) in Jan, which tracks their own Motley Fool 100 Index. It's very tech heavy — Apple, Google, Amazon and Facebook make up a decent chunk of it — but interesting, with those stocks being so turbulent right now it's been down, which might make it a good time to buy. Anyone else have good ETF suggestions?

As always, please reply to this email, or tweet to me @ambiej if you've got any questions/concerns/financial concepts you wanna mansplain. Forward it to a friend who might wanna be a millvestor.

Testimonials:
From @brodielancaster: " catching up on my friend @ambiej's GREAT newsletter that puts investing/stocks/"the Dow"???? into easy-to-understand terms and now I WANNA PUT MY MONEY SOMEPLACE that's not Sephora tinyletter.com/amberjamieson" — as I tweeted back to Brodie, my brain is so STOCKS these days, I was like "why wouldn't you put your money in Sephora, LVMH stock has jumped significantly in the last year, if I had extra cash I'd do it"
I got this email from a reader last week:
"Yesterday, during drinks with a friend, I spent at least 6 minutes ranting about all the shit Trump is doing that is destroying my stock portfolio. 'Is it not enough that he is banning Muslims and tearing apart families and undermining the fabric of our democracy? Must he also fuck up my stocks.'

"My friend was like, 'the stock market has changed you'."