🐿️ behold the nutcracker 🐿️
Hi friends!

Welcome to Better Have My Money, my Monday night newsletter about stocks for newbies. Better Have My Money is a gif-filled rundown of the stock market, from getting high on weed shares (and the inevitable comedown) to figuring out much is "enough" for you.

I hope Thanksgiving, if you celebrated it, was everything you wanted. Holidays are stressful and emotional, and this year I made people around the table say what they were UNGRATEFUL for and honestly sometimes we all need an airing of grievances.
But what I found really damn hard money wise was all the sales after Thanksgiving. Black Friday melting into Cyber Monday (truly the worst name, please rebrand this) suddenly becoming just like days and days of huge sales of things I would love. New sneakers! Cosy cashmere jumpers! Gym classes on sale! Skincare I'd just run out of! Makes you think it's crazy NOT to buy at these prices.

How many shopping carts did you fill before eventually closing the tab?
I bought a fancy set of leggings w matching crop top for my future life as an Instagram influencer, and some sunscreen, and backed away from my computer.

On Cyber Monday (no srsly, it's crucial that this name is changed, it's truly terrible), I was texting with a friend trying to decide if I should sign up for a month of Rent the Runway Unlimited. I quickly realized that I am definitely not someone who spends hundreds of dollars on clothes each month OR wants to deal with remembering to ship things back, but we started talking about budgets and what we actually, you know, needed to buy.
Because sometimes you just need to buy stuff. Whether it's cause it's cold and you need turtlenecks, or it's that Christmas is coming and people expect gifts that come from a store or that you're out of sunscreen and at risk of skin cancer. Sometimes you need to purchase crap, whatever the reason.

One of the most effective ways I've found of putting away a tiny amount of money for investing without even noticing is by using theapp Acorns. Every time I purchase anything with my everyday checking account, Acorns rounds up to the nearest dollar. Once it's rounded up $5 worth, it invests the money. Basically, every time I shop, I am also saving money.
I wrote back in March about Acorns and I've now been using it for nine months and have saved over $360 without even noticing. A small amount, obviously, but it's all been invested in ETFs by Vanguard (yes, remember Exchange Traded Funds, aka the safest way to invest in the stock market because you're just investing in a tiny bit of all the top companies and just following the market) and I never noticed it leaving my account.

Plus, every month I chuck in an additional five bucks (and you pay $1 in fees per month).

I'm in the "aggressive" portfolio (you had to answer a few questions about money, and it recommended that I be in the "moderate" portfolio based on my age, gender, spending habits etc, but I actively changed it to aggressive).
Confusing term of the week: "portfolio" — just a word that means a collection of all your investment assets. So, in the case of my "aggressive portfolio", it means that 40% of my money is invested in large company stocks, 20% in small company stocks, 10% in emerging markets, 10% in real estate and 20% in international large company stocks.

To be clear, so far I have made no money off Acorns! None! Zero! In fact, including the fees I've spent, I'm down in money about $10. Considering how the market has been in the last month or two, it's not really surprising or worrying to me, particularly since I chose the aggressive portfolio, but figured it was worth pointing out.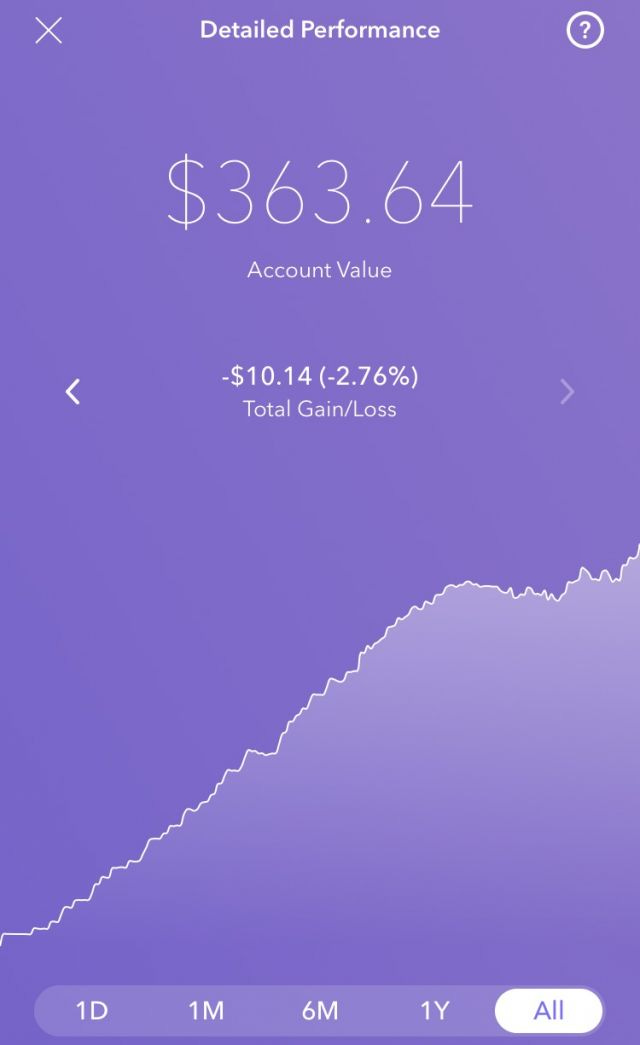 I was pretty sceptical about Acorns at the beginning but for me it's been a way of investing in ETFs, which I know are sensible but which I find too boring to buy myself.

In recent months Acorns has also linked up with a bunch of other companies, which you can see in the app. Clearly it's also so you'll share your data with a crapload of companies (everyone loves to make money off the details of your spending habits), and I haven't used their "earn found money" function yet, but it's a clever way of making purchases turn into a tiny investment for you.

For example, every Uber ride you book through the Acorns apps until Jan 2020, Uber invests $0.50 into your Acorns account. Sephora is offering 3% of any purchase through Acorns to be invested into your account. Host on Airbnb for the first time through Acorns and you'll get $200 in your investment account.
I'm not sure how practical these all are — and many of them you have to be a first time buyer for — but hey if you're gonna be making these purchases or doing these things anyway, you may as well use this to your advantage and skim a bit off the top of it all to be invested.

Acorns tries to get you to sign up for a retirement card and a checking account and a bunch of other stuff, all of which I ignore. And it projects that by age 77, I'll have saved $102,034 through Acorns, which, let's be real, I suspect won't happen. But right now it's a good way for me to invest in ETFs without trying — and might be an easy way for you to start investing in stocks with basically zero effort.

If you want to sign up to Acorns,use my invite linkand we'll both get $5 (and I won't lie, Acorns currently has a promotionthat if you get 12 friends to sign up and they all put $5 in by the end of 2018, you get $1200! I'd bloody love that Christmas bonus, consider it a cheap way of saying thank you for these newsletters.Click here to sign up and put your first $5 in.)
Testimonials
From reader Ji Son via email: "Absolutely enamored with your newsletter. Keep up the amazing work — we give thanks for you! P.S. The people really struggling this holiday season are on my mind as well. Part of why I want to grow wealth. To give more also! 🙌🏻" — Ji Son, this made my week.
Along with the Thanksgiving sales, I hope you got a chance to donate on Giving Tuesday.I donated to March Of Dimes, in honor of our friends' baby son. If you forgot last week, shhh, I won't tell anyone. You can make today your Giving Tuesday.

Cheers,
Amber Jamieson
Better Have My Money is on Twitter @bhavemymoney, so please tweet nice things (aka the link to our sign up page) and tag us. Got a mate who likes to buy crap? Forward this onto them and tell them to subscribe.
As always, if you've got any questions about stocks, this is a shame free zone. Just reply and ask away.