⚔️The Battle of Marketfell ⚔️
Hi friends,
Welcome to Better Have My Money, my Monday night newsletter about stocks, investing and how to not screw up your financial future.
Looking at my stocks today — my investments are down 4% today, the market's biggest one day loss since Jan etc — was like a scene from the Battle of Marketfell, wink wink.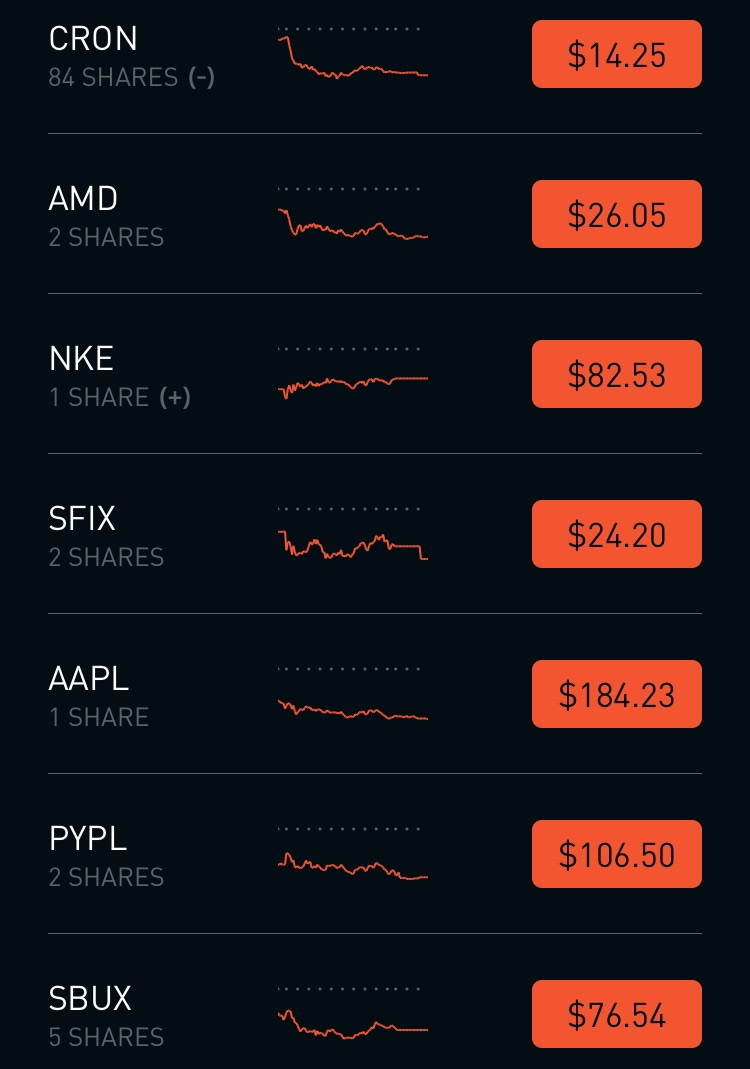 Or maybe it's more like the Red Wedding, nudge nudge! Look at me making Game of Thrones jokes despite not watching the show for three years (I moved into my own apartment and it was too dark and scary OK!!!).
But one of the many benefits of working at BuzzFeed is that you can't escape pop culture even if you try, therefore I know all (most) of the spoilers and am shocked that Cersei never got adequate revenge for that haircut.
Anyway, think of yourself as Arya, your money is Needle and you are ready to slay the market with … OK I am out of hamfisted GoT metaphors and will stop.
The market sucked today and has sucked most of this week, thanks to the president starting a trade war over tariffs with China. Trump raised tariffs up to 25% on $200 billion worth of Chinese goods, basically meaning he's adding more taxes to consumer goods such as sneakers and cellphones that China exports to the US. China retaliated by announcing it would increase tariffs too. And this trade war might continue for a long time.
The stock market got nervous, and the S&P 500 was down 2.4% today.
So these are my three pieces of advice for days when suddenly your investments come crashing down. And this works even if things are down tomorrow and the day after and also next week.
Don't look at your account. Don't open it. Seriously, just close the apps.

Turn off any notifications.

Your money will not magically increase just because you're monitoring all the time and if you're not looking at it, then you're not worrying about if you should suddenly sell something. Probably don't sell right as the market crashes? Just close the app and go watch some more incest dragon drama.

A dear mate of mine sent me this text this evening:

I sent her a voicemail telling her exactly what I'm writing here — stop checking the damn stock prices cause it's just gonna make her feel worse. Plus, she's up 7% over three months anyway! It's easy to get caught on the day-to-day.

She replied with this:

Sometimes ignorance truly is bliss and if you're planning to invest long-term, which you should be, just try and zone out while this is going out and ignore your account for a few weeks or month. Maybe by the time you check again, you'll be pleasantly surprised!

Or, if you can't resist opening the app, and like me want to know exactly which companies are crashing the most: figure out what you want to buy.

Buy when prices are down aka now!

Currently I've been looking at:

LVMH Moet Hennessy Louis Vuitton (LVMUY): last week it was announced that Rihanna would be launching her own luxury brand at LVMH. Rihanna will be the first woman to create her own brand there and the first woman of colour to run a house. She is the inspiration for this newsletter for a reason!

Nike (NIKE): is down 5% over the last month, and is on the list of Motley Fool's starter stocks. I own one, as part of Money Games 2019.

Aurora Cannabis (ACB): would love to diversify my weed shares away from only Cronos, the weed stock everyone loves to hate. Aurora is only around $8 a share, meaning I could buy a few of them easily.

Shopify (SHOP): it creates the e-commerce platforms for most small businesses, and I had planned to buy it when it was $150 and now it's $250 and I'm kicking myself and wondering if I should buy one while it's slightly down.

Renaissance IPO ETF (IPO): an ETF that follows IPOs and buys them within 90 days of a company floating and then sells them after two years.

Maybe I should finally buy some Vanguard S&P 500 ETF, which will just track the market, to make sure I own one sensible investment? Bit boring tho.

Remember that you can set a limit order and just set a price and wait.

Confusing term of the week: "Limit order" — Basically when you set the maximum amount that you want to pay for a stock. When the price drops and reaches your target price, your order immediately goes through.

The problem is, in Robinhood at least (probably in other apps, I just don't use them!), that you will need to have the money already in your account and available to fulfill any limit order you're creating. So just keep that in mind, you can't have like 10 possible orders in case a bunch of companies drop drastically, unless you've got ALL the money available to fulfill all the orders.

Register to vote. Not happy with a president who tweets messages such as this?

"I say openly to President Xi & all of my many friends in China that China will be hurt very badly if you don't make a deal because companies will be forced to leave China for other countries. Too expensive to buy in China. You had a great deal, almost completed, & you backed out!"

Then read up on other candidates and register to vote.

And Australia, you get to vote and eat your democracy sausage on Saturday! I can not confirm or deny if I maybe disappeared from the Aussie voting rolls and I only realized after it was too late to register. Don't make my mistake.
A belated Mothers Day to my dear mama, who is my most loyal newsletter reader and will definitely not understand any of the GoT talk (shame, cause she'd love the dragons).
But in honor of the mums, I'd suggest giving out a micro-loan on Kiva.
I've used Kiva for years, it's really wonderful at being able to lend people — predominately women — loans to help set up a business (like buying cloth to turn into dresses or grocery items for a store), build a house or pay for college. The loans are in lots of $25 — and you eventually get paid back and can re-loan the money! It's great. You can browse for countries or categories such as single parents or women.
Hope your week is exciting,
Amber Jamieson
---
Better Have My Money is on Twitter @bhavemymoney, so please tweet nice things (aka the link to our sign up page) and tag us. Got a mate who also stopped watching GoT? Forward this onto them and tell them to subscribe. If you sign up to Acorns, use my sign up code to join and we both get $5.
As always, if you've got any questions about stocks, this is a shame free zone. Just reply and ask away.