Hey friends!

I've spent the last two days sick in bed with a stupid head cold so apologies in advance for the typos.

Well things stock-wise are all over the place right now. First up, after all my excitement at weed stocks last Monday, I just watched the damn stocks plummet all week.

This Cronos (CRON) stock (which is the first major marijuana stock to launch on the US market) is all over the damn place — last Friday it was down 16% from when I'd bought it a week earlier.
Since it had dropped so low — and since Robinhood don't charge any fees to buy stocks — I decided to take advantage of the drop and buy some extra stocks. So I grabbed 10 extra stocks at $7.91 (I bought 50 shares at $9.67 a week earlier). I did this cause I felt secure it would evetually rise again

Then today, Cronos jumped up around 9%.
Interestingly, the reason it jumped today (I realized after some frantic googling) is because it's entered into a cross-country venture with MedMen. Yes, the retail company I mentioned last week which was like the Apple store of weed. Apparently Cronos and MedMen are going to open stores across Canada together, since recreational weed is going to be legal up north from around August (it keeps getting delayed, which also sends stocks flying all over the joint) (joint lol). Good news for me though.
So, until just a few weeks ago I used Qapital app as a secret way of saving. Basically the app just rounds up all your purchases to the nearest dollar or $2, and it means every time you buy anything, you're also saving an extra few cents on top without even really noticing. And you could set rules for it — aka I had a rule that if I didn't spend $40 at my local wine store each month, the difference would be deposited into my Qapital account. (Except I ALWAYS spent $40 at my local wine store, I am a very loyal customer, and Qapital wouldn't recognise this and then would deposit an extra $40 but that's beside the point).

I had my Qapital goal set to $500, and I reached that goal twice last year. And it really did just feel like bonus money — even though it was obviously from my own damn account. I found it handy, particularly for cash for holidays, but decided since I was going to focus on investing my money, rather than just saving some pennies to then spend, that I'd stop using Qapital.

Instead: are you familiar with the app Acorns?


It's a similar concept to Qapital — an app linked to your bank account, that rounds up a few cents on every purchase you make. Except, Acorns invests your money in ETFs (yes, those damn things again. Basically Exchange Traded Funds are like a little bit of stock from all the top companies and they just follow the stock market. They are a safe way of just following the market).

Acorns supposedly "quizzes" you on what kind of investor you are and your finances then choses your ETF based on that. However, it placed me as a "moderate" and I had to spend some time figuring out how to adjust it to "aggressive."

Look, I've only played with it a bit and I have like $10 in there, but what I think Acorns is actually MOST useful if stocks currently terrify you. It makes everything easy to understand and does all the work of buying for you.
The app offers some great basic news about how the stock market works, what to do if the stock market crashes (nothing, just hold on to your stocks), the difference between a bear and bull market (I always forget these but a bull market is a growth market, and we are in one, but it's been going for a long time so it's possible it will end soon).

For me, as someone who already has some stocks, Acorns is a bit garbage for regular investing but handy for my extra pennies that I'd probably just spend on bars of Toblerone (like gold bars but better).

And here's a look at my stocks this week, which have been jumping all over the place.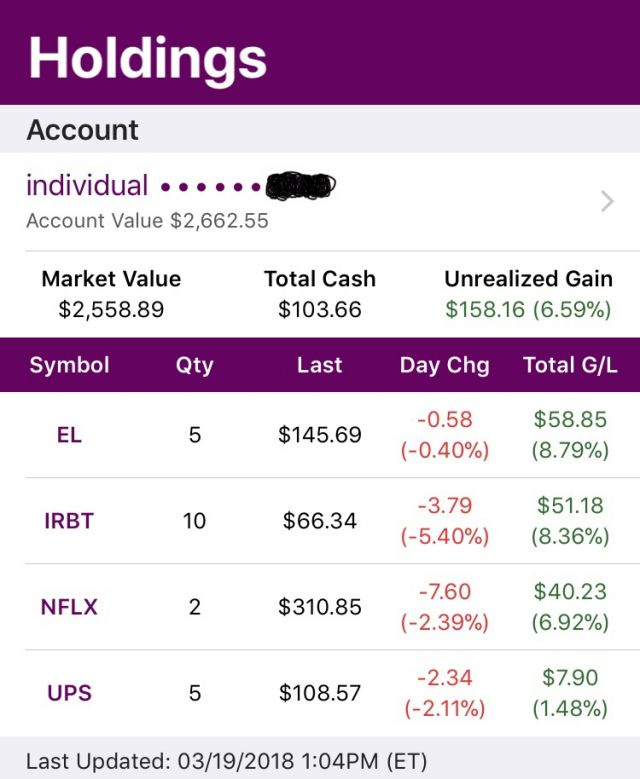 The Times did a fascinating and depressing interactive looking at generational wealth, which shows that black boys born to wealthy parents are likely to have the same economic outcomes as white boys born to working class parents. White supremacy is real.

My charity suggestion this week is March For Our Lives, the high school kids who are going to march on Washington — and all over the country — this Saturday to protest gun violence.

Any questions or queries, just reply to this email, I love getting your feedback. If you like this, forward it to a friend, they might like it too! Or, they may hate it, but will hopefully be too classy to tell you (or me).

Testimonials (stealing this idea straight from the brilliant Ann Friedman Weekly newsletter):
From @katrinawalker: "hi amber i am obsessed w/ your tiny letter and when i become a big and successful investor you'll be the first person i thank on the podium (you get awards for that right???)" — omg we are gonna get so many rich people awards, thank YOU Katrina
May we all invest this week with the confidence of 6-year-old Blue Ivy Carter, who bid $19,000 on art during the Wearable Art Gala on Saturday night. She lost that piece, but bought another for $10,000.

(And yes, this did remind me of The Story of OJ).